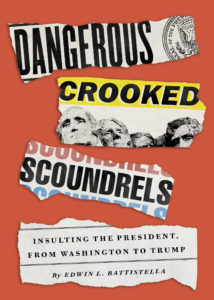 "It was a pleasure to read a book that made me laugh aloud. Edwin Battistella has done an impressive job of documenting and explaining the history of presidential ignominy. I suspect that readers will be sending him their favorite insults for the next edition."—Donald A. Ritchie, Senate historian emeritus
"Though our Twitter-dominated era may seem uniquely venomous, this wise, witty and thoroughly entertaining history of American political insults proves otherwise. Word-lovers will delight in linguist Edwin Battistella's resurrection of once-deadly insults such as 'mountebank' and 'dastardly poltroon.' More important is the compelling case Dangerous Crooked Scoundrels makes that our precious freedom of speech has always rested on the ability to openly criticize and even insult our highest elected officials."—Charles Slack, author of Liberty's First Crisis.
"Dangerous, Crooked Scoundrels takes a deep dive into America's long history of attacks on the president, not only exploring the insults themselves, but placing them in the context of their times. It's an engaging, thought-provoking look at a tradition as old as the republic and as immediate as the next election."—Rosemarie Ostler, author of Splendiferous Speech.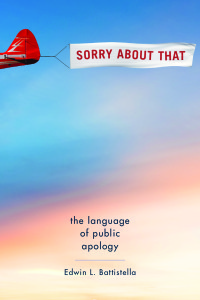 "With a clear eye and prose that never drags, Ed Battistella brilliantly illuminates the hidden dynamics of public apologies from the Oprah Winfrey Show to Mel Gibson's downfall and from Joe Biden's doubletalk to Woodrow Wilson's shoelace-chewing mea culpa. You won't be sorry you read this book." –David Skinner, author of The Story of Ain't: America, Its Language, and the Most Controversial Dictionary Ever Published
"Sorry About That is a bracing catalogue of human folly that stuck with me after I'd finished reading it. Battistella provides a panoramic view of shameful episodes and the subsequent apologies, confessions, and denials whose language he keenly dissects, in order to show all the ways that we have to genuinely apologize — and to wiggle free. Observers of public language will love the book. (So too, alas, will serial offenders.)" –Michael Erard, author of Babel No More: The Search for the World's Most Extraordinary Language Learners