Edwin Battistella has written for American Speech, Politico, the Huffington Post, Choice, the Vocabula Review, the Chronicle of Higher Education, the Library Journal, Academe, Society, the Oregonian and Oregon Humanities.  Here are a few highlights.
"Forty Years of Faculty Reports," ACADEME Blog, Aug. 13, 2020.
"Insulting the President Is a Tradition as Old as the Republic," The Daily Beast, April 23, 2020.
"How U.S. Presidents Have Tried to Use Legal Action to Stop People From Insulting Them," TIME, April 1, 2020.
"Oregon, the Name," The Oregon Encyclopedia, March 2019.
"When nations apologise," AEON, March 27, 2017.
 "The Best And Worst Of Public Apologies" Huffington Post Book blog, June 4, 2014.
"The Art of the Political Apology," Politico.com, May 8, 2014.
"Mark My Words," Oregon Humanities, Spring 2014, 16-19.
Oregon and the Film Industry.  The Oregon Encyclopedia. http://www.oregonencyclopedia.org/entry/view/oregon_and_the_film_industry/ 2013.
Naked Came the Rogue, a serial mystery published online as part of the April 2011, Jackson county Reads Oregon Mysteries celebration. 2011.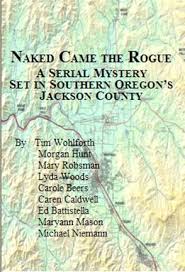 "Sleeping Dogs," Vocabula Review, Dec. 2010
"What a Library Closure Taught Me," Library Journal, March 1, 2010, 135.4, 42.
"The Yardstick of Manners," Society, 46.4 (2009), 363-67.
"Making Soup From Rain: My Year as Provost," Academic Leader, 25.5 (May 2009) 1, 6.
"The Liberal Arts Rebranded:" Journal of College Admission. Summer 2009, p 31.
"It's a Question of Who's Sorry Now," Oregonian. Sept. 19, 2009, B5.
2008 "Groping for Words: A Guide to Slang and Usage Resources" Choice: Current Reviews for Academic Libraries, Dec. 2008, 619-631 (also published online at http://www.cro2.org/).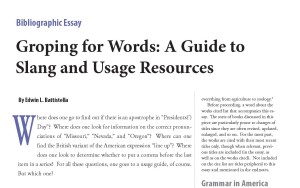 "The Folk Art of Language" Vocabula Review, March 2008, www.vocabula.com. [also in Vocabula Bound, vol 2, a collection of essays and poems to be published by Vocabula Books, 2008.]
"The Puzzle of Propriety: What etiquette books reveal about the dubious nature of manners" Oregon Humanities, Fall/Winter 2008, 23-26.
"I seem to be a preposition." Academe, Fall 20-07,  95.
"A Season for Griping About Our Greetings," Oregonian, Nov 28, 2007, B7.
"Twenty-five Things to Do On Sabbatical," The Montana Professor, 18.1 Fall 2007, 49.
"There's a lot to like," Vocabula Review, Vol 9, no 8, August 2007, www.vocabula.com.
"The Eagle Has Landed," Oregon Humanities, Spring/Summer issue, 2007, 15-18.
"Girly-men and girly-girls," American Speech. 81,1 (2006), 100-110.
"The Pledge of Allegiance—A Grammarian's View," The Vocabula Review [online journal, www.vocabula.com], July 2005.
"Renaming and Rebranding," The Vocabula Review [online journal, www.vocabula.com], Nov. 2004.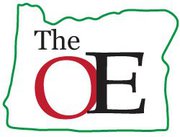 Battistella has also  written a handful (a large handful) of pieces for Oregon Encyclopedia (www.oregonencyclopedia.org/) on the Ashland Independent Film Festival, United Bicycle Institute, Raven Maps, Albert Kitzhaber, Country Coach, the U.S. Fish and Wildlife Forensics Lab, Tucker Sno-Cats, the Myrtlewood industry, Carson Helicopters, Erickson Aircrane, Lithia Motors, Monaco Coach Corporation, Les Schwab, Allann Bros. Coffee, Lenn Hannon, Bert Webber, Thomas J. Autzen, the Oregon Pear Industry, Damon Knight,Kim Novak, the Davidson Baking Co., White Stag Manufacturing, and Gus Van Sant.